In this present era, we have so many things to do for ourselves and for our loved ones. While everybody is so engaged in his or her work, don't you think there should be some excitement and liveliness in life? Of course, you can steal all the excitement in your life and in the lives of your dear ones through your gestures and moves.
For adding excitement, you should hit the right notes at the right days. For example, if there is wedding anniversary of your friend, why not just look for some exciting wedding anniversary cakes for him? Make his day awesome and well cherished by your scrumptious cakes.
Why Not Carry Out One Single Move?
No matter you are a businessman or a student, you always have ways to make your life sweeter and pleasant. Nothing would change until you make a move. So, whether you want to strengthen your bonds or cement your relations, lovely gestures always pave the path.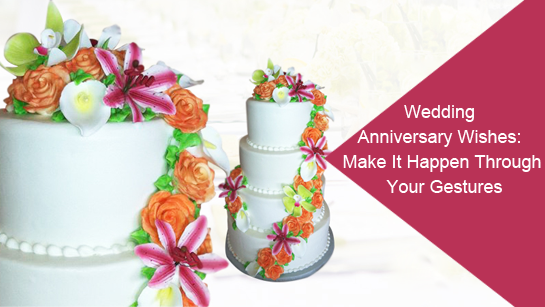 Talking about wedding anniversaries, every married person in your life possesses anniversary every year. This day can be a perfect time to make a difference in your bond. Starting with your parents, they have always done so much for you. They loved you more than anybody else. Now, since it is so, how about giving them a surprise cake on their wedding anniversary day? Of course, you can pick so many types of cakes. If you know their taste and interests, you can get the cakes customised in that manner. The good thing about such a cake would be it can spread happiness and delight right away. Everybody can eat it together and celebrate the togetherness of your parents.
Then suppose it is your wedding anniversary and you are perplexed about what to do. In such a scenario, a romantic and scrumptious cake can be the best option. It won't just make your wife's day pleasant but fill her with love and glee. Just order a beautifully decorated cake and get it delivered at the desired time. This way, your beloved will have no idea that you had any plan going on in your mind.
Another thing is that many a times we are away from our dear one who has his wedding anniversary, in such a scenario, saying that you are not with them that's why you didn't do anything would be mere excuse. So, shed these petty excuses and thing out of the box. For example, if it is your sister's wedding anniversary and you are in another city, just place an order for a gorgeous cake and get it delivered at her place. Don't worry about the freshness of the cake; once you have done anniversary cake online order, it is the headache of the delivery boy. So, this way, your sister would certainly feel touched and loved.
Thus, there is variety of ways if you have a heart to carry them out. Don't allow your bonds to get withered in the absence of special gestures and moves. Take the moments in hand and make your desired things happen.