Different gardeners water their plants differently. While some think planting flowers and vegetables is their sole responsibility after which they can get busy in their non-garden life, others take things too seriously and engage in incessant watering for their plants. To be honest, both of these practices are harmful for your garden. Scanty watering and overwatering plants can make them weak over time. And you will be sad to know that weak plants fall prey to diseases and bugs easily. Besides, they don't produce as many flowers and fruits or vegetables as you would like to see. To make sure you have a garden that makes your neighbours envious of you, you will need to change your watering habits for the good.
How to strike a balance?
Watering might look like a simple job. But it's not. You need quite a lot of expertise to know how much watering do your plants need. First, identify your soil type. By doing this, you will be able to figure out how much water does the soil naturally receive. After that, you can devise your watering plan. Mostly, people resort to their experience and common sense when it comes to watering plants. To have an idea of how much water your plants are receiving from rain, you can get a rain gauge.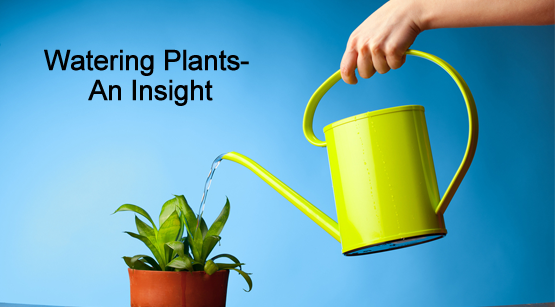 What happens when you water too much?
A lot of gardeners think heavy watering is better for plants than scanty watering. But in reality, both these extremes are unhealthy for plants. By watering your plants too much and too frequently you will definitely waste a lot of water. Besides, the excess water gets trapped in the soil around the roots where if it stays for long, it could cause the roots to rot. This will make the plants weak and kill them. Roots cannot breathe properly when the pores in the soil around them remain completely filled with water. It is only during germination of seeds when heavy watering might prove helpful, that too only in case of certain plants.
Plants that suit your watering habits-
So, you have finally figured out that you cannot stop watering your plants no matter what. Or maybe you have realised that you can't give time to your garden as much as it requires. Well, then create a garden with plants that would be okay with your watering habits. Yes, there is no dearth of plant varieties that love to stay away from excess water. And there is also no shortage of plant breeds that always stay on a thirsty mode. By knowing what plants would approve of your watering style, you will definitely be able to get a beautiful and lush green garden.
If watering is not your cup of tea nor is gardening, then you can always resort to the florists in your town. They can give you all varieties of flowers you need for the purpose of house decoration and gifting. And don't worry; there is no dearth reliable of jaipur flower shops.